Canberra is not only the capital of Australia—but it is also the eye of investment opportunities.
Not only nurturing lovely flora and fauna, according to the CoreLogic home value index in December 2021, Canberra has also fostered a steady ​​24.9% annual capital growth, awesome median house price and a marvellously low unemployment rate.
Canberra's 2022-23 downturn saw a rapid 10.9% drop in house prices. Yet, experts predict a recovery in the next financial year, with a forecasted growth of 4% to 8%. According to a KPMG report, the upward trend is expected to continue, with a projected 4.4% increase by June 2024 and an additional surge of 9.4% anticipated by June 2025.
Here are some reasons why you should consider putting your money in the nation's capital, which far exceeds other capital cities, and some of the best suburbs you should know about as an investor.
1. STRONG LABOUR MARKET
Jobs will always be a primary reason for relocating and settling down. The ACT has a strong labour market, with the Federal Government providing significant direct and indirect employment. According to the latest labour statistics from the Australian Bureau of Statistics (ABS), Canberra's unemployment rate sits at 3.8%, putting it below NSW's average of 4.6%
The strong employment market that offers various job opportunities makes Canberra a safe, desirable place to unlock new beginnings.
2. POPULATION GROWTH
Canberra has had consistently strong population growth, particularly over the past six years. According to ABS' latest data, it had a healthy population annual growth rate of 0.2% and is on track to increase nearly double within 40 years.
The population growth, paired with the strong labour market, makes a major growth driver that promises advancement for the city.
3. LUCRATIVE MEDIAN RENTAL RETURN
The Australian Capital Territory's rental market is booming, and it offers more accessible entry points than cities such as Melbourne and Sydney.
Investors have a better chance to obtain a good rate of return with ACT property than in Melbourne or Sydney, as the latest rental return for apartments in Canberra is 5.7%, significantly higher than the rental returns Sydney offers at 3.5%, according to SQM Research.
Furthermore, with a nearly 2% difference, the rental yield for units in Canberra is much greater than the average for all houses.
Geocon's Head of Sales, Adam Morgan, states, "You can get more rental yield from a $500,000 purchase here (in Canberra) than you can from an $800,000 purchase in Sydney," making the annual rental yield in Canberra much more desirable.
With the positive growth the Australian Capital Territory region is experiencing, demands in the rental market are expected to accelerate in the upcoming years.
4. AFFORDABLE MEDIAN HOUSING PRICES
The property market in Australia's capital is making it easy to gain wealth for both tenants and homeowners.
Canberra median house prices increased 24.9% over the past year, with a total return of 29.6%.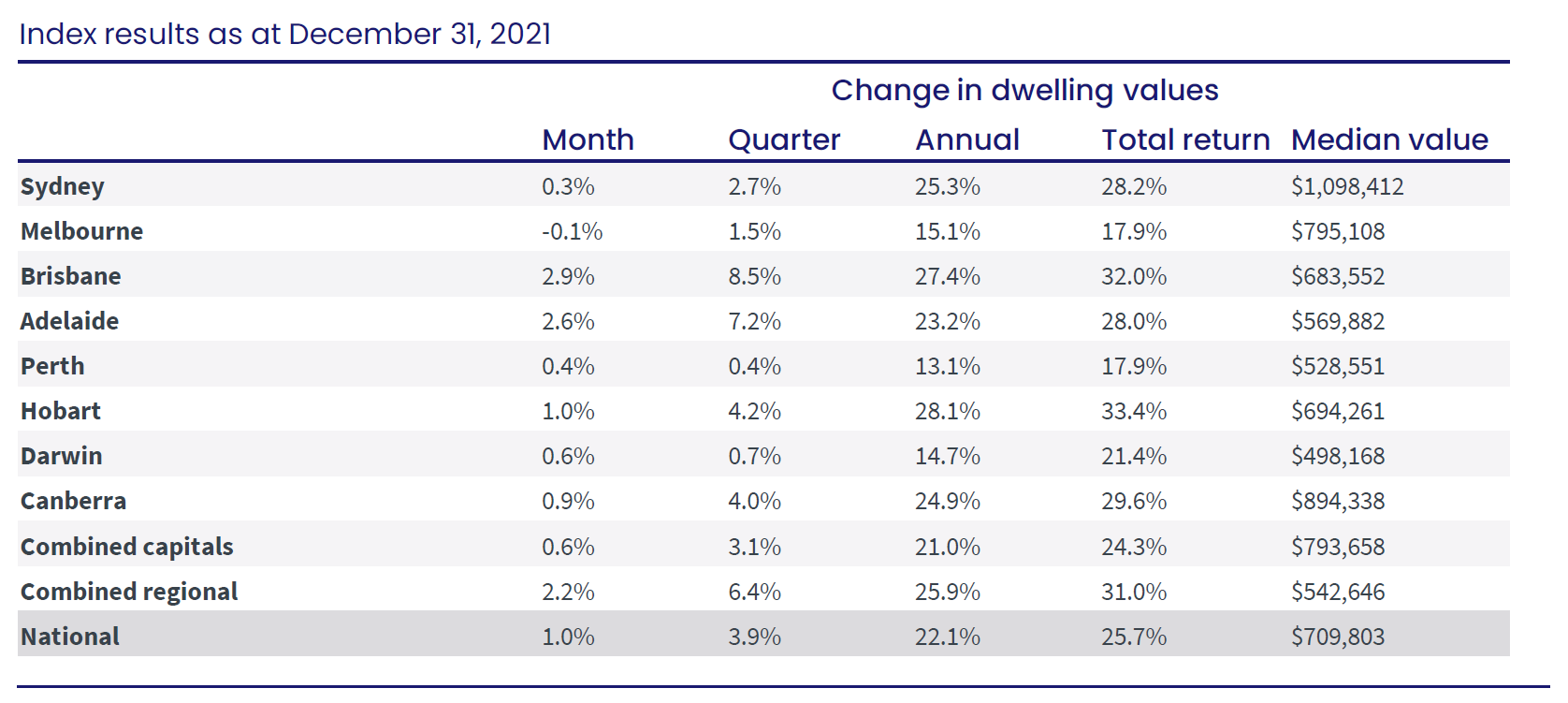 Source: CoreLogic home value index December 2021
Units have also performed strongly in Canberra compared to Sydney and Melbourne, with a much lower median unit price of only $584,000. The affordable median prices and strong growth make the ACT ideal for investing.
Canberra witnessed its sharpest downturn in 2022-23, a quick and intense drop that saw house prices plunge by 10.9% from the peak to March 2023. Despite this, experts predict a rebound in the coming financial year, with a projected growth of 2% to 4%.
5. POSITIVE MEDIAN WEEKLY RENT
The value of Canberra property has inspired many people to invest.
Canberra's annual gross rental yield, median weekly rent, and total annual investment returns for both houses and units remain amongst the highest of all the capitals.
The median weekly rent for units in Canberra has reached $540, according to CoreLogic's Quarterly Rental Review, exceeding the rental property markets in Melbourne of only $487 per week.
6. BOOMING ECONOMY
The economic growth of Canberra is always among the fastest-growing capitals in the country. According to an ACT government media release, Canberra has seen a combined economic growth of 12 per cent over the past three years, supporting the creation of over 3,200 new businesses and more than 16,000 jobs.
Canberra's population is relatively young, with low unemployment and higher than national average incomes, turning it into one of Australia's most exciting destinations to live or invest in.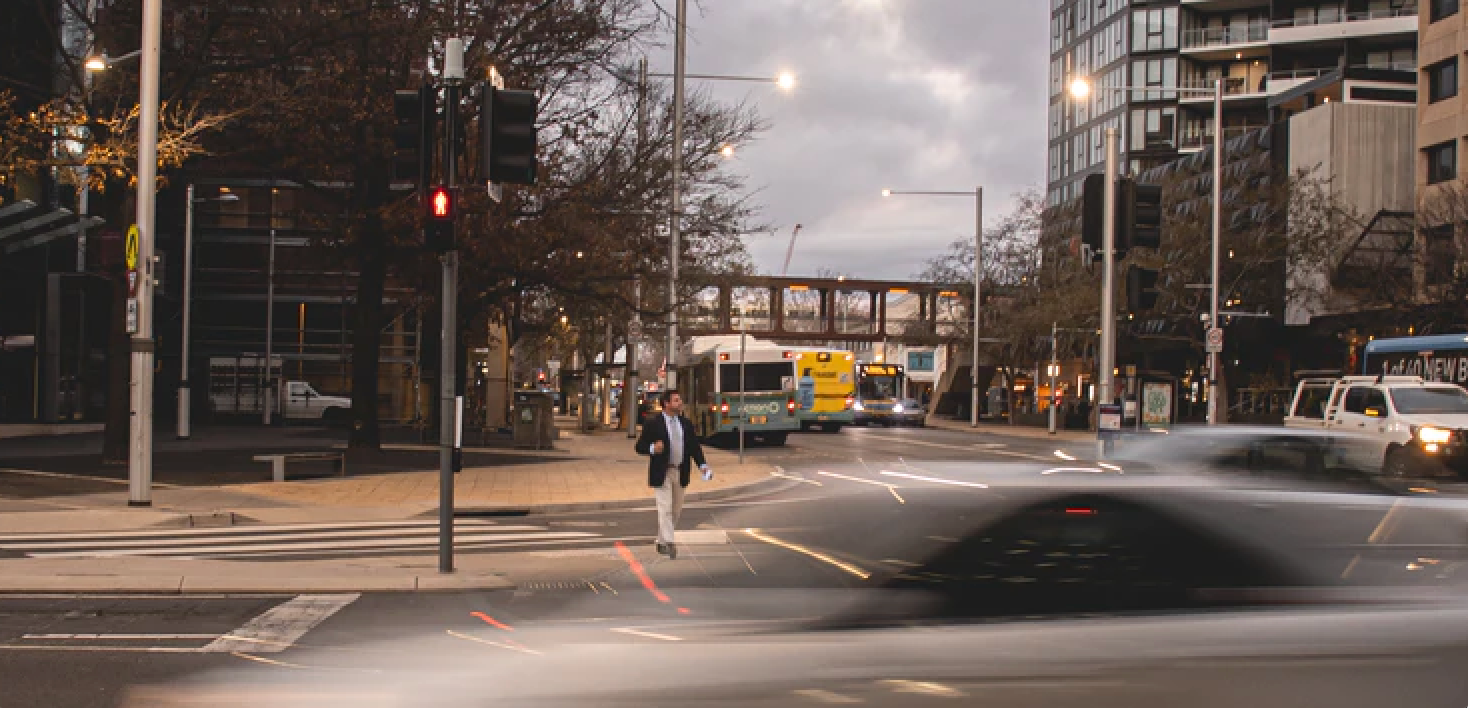 7. ENVIRONMENT AND LIFESTYLE
Canberra is famous for its wide selection of vineyards, with 140 vineyards within 35 minutes of the Canberra CBD. The city also houses 13 Chef-Hat Award restaurants and numerous award-winning baristas.
Additionally, Canberra has a comfortable, mild climate with at least 246 days per year of sunny, clear weather.
Canberra is also home to the famous Mt Stromlo mountain bike track, adding value to the quality of living in Canberra.
The tranquillity the ACT region offers should definitely be something investors keep in mind when selecting an investment property.
Where to Invest in Canberra Market
It is Canberra's time to shine, with our capital city experiencing steady, healthy increases in median property and rental prices. Canberra property is highly sought after in the market!
10 suburbs with the highest YoY pc increase in median house prices
10 suburbs with the highest YoY pc increase in median unit prices
The stable property market in Canberra outshines most other major cities, and property investors should definitely keep an eye out for these places in the Canberra market:
1. GUNGAHLIN – ONE OF NORTH CANBERRA'S MOST DESIRED SUBURBS
Gungahlin is a highlight in the Canberra market, known for providing fantastic investment opportunities.
It has quickly gained a reputation in the local market as one of North Canberra's most desired suburbs, with its close proximity to the city centre, natural bushland setting and a large number of new homes in the area.
The growth guaranteed in Gungahlin also makes it a good contender in the Canberra property market.
Gungahlin is benefiting from significant developments currently underway at Gungahlin Town Centre, which will provide an additional 6500 jobs when complete.
Ever-growing and moving at a rapid pace, life in Gungahlin has evolved to become a combination of luxury living and supreme location.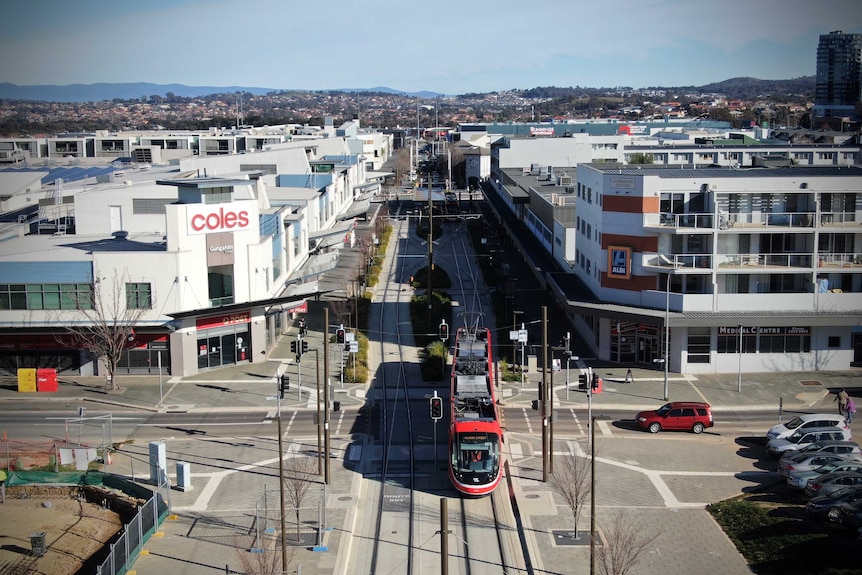 2. CANBERRA CENTRE — AT THE HEART OF IT ALL
The bustling Canberra City Centre will put you just moments from every imaginable amenity. Food and fashion. Entertainment and leisure. Universities and schools. Bars and nightlife. Set foot outside at any hour, day and night, and walk straight into the epicentre of contemporary Canberra.
This is a great place for investors who are looking for a safe place to obtain gains. The light rail, new local businesses, education and other services make it a wonderful ground to grow wealth.
3. WODEN VALLEY – RECEIVED A RECENT MULTI-BILLION DOLLAR REGENERATION
Woden is just a 10-minute drive from the city centre and showcases a huge range of properties & high-rise apartments without sacrificing an abundance of space and greenery.
The good public transport links and proximity to everyday essentials make the area particularly desirable for both families and independents.
Undergoing major redevelopment with public and private investment, Woden's Town Centre is a great location for real estate investment; the value of the area is expected to accelerate in the near future.
4. BELCONNEN – THE MOST CONNECTED & CONVENIENT TOWN CENTRE IN CANBERRA
Belconnen is situated approximately 7 kilometres from Canberra CBD and has access to a variety of public transportation.
It is home to the University of Canberra, Canberra Stadium & Calvary Hospital, as well as cinemas, a library, swimming pools & dozens of eateries that line the picturesque lake.
Belconnen property is only 1 minute away from Lake Ginninderra, 2 minutes away from Belconnen Bus Interchange, 5 minutes away from Belconnen Westfield, 8 minutes to the University of Canberra and 15 minutes away from Canberra City.
5. TUGGERANONG – MODERN LUXURY LIVING ON CANBERRA'S UNSPOILED NATURAL FRINGE
Located only a 20-minute drive to Canberra City and 1.5 hours to the South Coast of NSW, Tuggeranong is a family-oriented district with plenty of good schools, ovals, and play areas for children.
The location's easy access to essential services such as education, hospitals, public transport and retail precincts make it particularly profitable to invest.
The Tuggeranong cultural and entertainment precinct is buzzing with life just moments from your front door.
6. LYNEHAM – OASIS IN THE HEART OF THE CITY
Lyneham is the north-westernmost suburb within the cluster of suburbs classified as North Canberra.
Lyneham is situated within a few kilometres of the city centre along the major transport corridor of Northbourne Avenue, with 10-minute drive to Canberra CBD and 16 minutes to Canberra Airport.
It is also located within close proximity to larger commercial and retail outlets such as the Dickson Group Centre, recreational and sporting facilities such as the Australian Institute of Sport, the Southwell Park sports centres, the Yowani Country Club, and entertainment venues including the Canberra Racecourse and Exhibition Park in Canberra (EPIC).
Canberra Investment Property Housing Market Forecast 2024
Canberra's property market has quietly excelled, especially during the pandemic. According to a KPMG report, the upward trend is expected to continue, with a projected 4.4% increase by June 2024 and an additional surge of 9.4% anticipated by June 2025.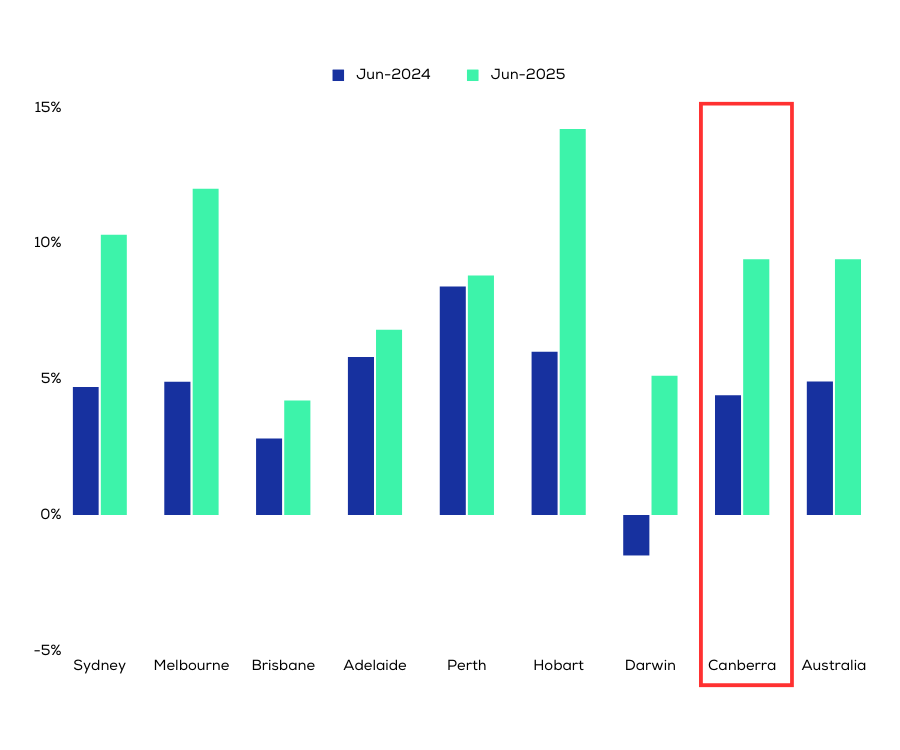 Ultimately the ACT property market is also one of the tightest rental markets in Australia, with vacancy on average 1.8% across all regions.
The increase in vacancy has coincided with slower market conditions and movement across the middle of the year in addition to several recent project completions in Gungahlin, The Inner North, The Inner South and Molonglo.
Tuggeranong still remains the tightest rental market in Canberra.
FAQs
How has the Canberra property market performed?
Over the past year, growth in Canberra's apartment market has surpassed that of houses. However, in the CBD, where demand for units is usually at its peak, median prices have remained stagnant.
Are there affordable investment opportunities for property investors in Canberra?
Yes, property investors in Canberra can find affordable investment opportunities in the city, particularly in high-performing suburbs. This affordability opens up the possibility of securing solid investments in the Canberra real estate market.
Are there any government initiatives that can benefit property investors in Canberra?
The government offers initiatives such as first-home buyer incentives and land tax relief. These initiatives can create opportunities for savvy investors looking to capitalize on Canberra's thriving property market. It's wise to stay informed about such programs and consider their potential advantages for your investment strategy.
Is it a good time to invest in Canberra's property market, considering the current interest rates?
The timing of an investment in Canberra's property market, or any real estate market, hinges on several variables. Low-interest rates may be advantageous, potentially reducing the cost of borrowing. However, it's crucial to thoroughly evaluate your financial position, investment objectives, and the prevailing conditions of the local property market before reaching a decision. We strongly advise seeking guidance from experts before making any investment commitments.
Still Curious?
If you're eager to learn more about the best places to invest in Canberra and are after assistance on your investment journey in Australia, please reach out to us today.
We will be delighted to tell you more about our property in Canberra and offer some advice on investing in Australia. Call us on 02 9099 3461 or Contact us below!