Australia continues to be a highly desirable migration destination, drawing individuals from all corners of the world. Alongside government incentives, Australia's property market holds great appeal for foreigners due to several factors that make Australia the perfect place to call home.
Here are a few things that make Australia's property market attractive in foreigners' eyes.
1. Stable and Growing Economy
Australia, being a thriving economy, offers numerous advantages for property buyers from across the globe. One of the primary reasons to consider investing in Australian real estate is its robust and stable economy.
Australia has earned a longstanding reputation for its resilience in the face of economic challenges, maintaining consistent growth throughout the years. According to the IMF's World Economic Outlook Update in 2022, Australia is the world's 12th largest economy.
The nation boasts low inflation rates, impressive GDP growth, and a well-regulated financial system. Purchasing property in Australia provides international buyers with a secure and reliable avenue to diversify their investments and potentially yield substantial long-term benefits.
With its skilled workforce, innovation-driven industries, and supportive government policies, Australia presents opportunities for business expansion, job creation, and overall economic prosperity.
Source: Austrade Benchmark Report 2023
2. Ideal Market for Businesses and Global Talents
Australia's booming job market and focus on skilled migration make it an appealing destination for professionals worldwide.
The country's business-friendly policies, transparent legal framework, and favourable business environment attract a considerable number of skilled migrants annually.
This influx of talent contributes to a thriving rental market, particularly in sought-after areas and major cities. Investing in rental properties in Australia can yield a steady income stream through rental payments, making it an attractive option for investors.
These factors contribute to the country's positive economic outlook and create beneficial opportunities for both domestic and international businesses.
Source: Employment Outlook – March 2022 (National Skills Commission)
3. Diverse and growing property market
Australia boasts a diverse property market, catering to a wide range of investment opportunities. The country offers a mix of urban and regional properties, coastal and inland locations, and properties suitable for various purposes such as rental income, development, or residential use.
Major cities like Sydney, Melbourne, Brisbane, and Perth provide bustling urban settings, while regional areas offer opportunities for investment in emerging markets or lifestyle properties. This diversity allows foreign buyers to explore various investment strategies and choose properties that best align with their preferences and financial objectives.
Furthermore, Australia's property market has shown resilience and consistent growth over the years, driven by factors such as population growth, low supply and high demand for housing. This stability and growth potential make Australian property an attractive asset class for both domestic and international investors.
Australia also has a well-established legal system that protects property rights and provides a transparent process for property transactions. As a foreign investor, you can have confidence in the legal framework and enjoy the same property rights and protections as Australian citizens.
Image: The Gold Coast, Queensland
4. Migration opportunity to Australia
Australia's high quality of life, stunning landscapes, and excellent education system make it an enticing destination for individuals and families looking to relocate. The Australian Government actively welcomes skilled migrants as permanent residents, recognising the valuable contributions they can make to the country's economy and society. Owning property in Australia can provide stability and long-term benefits for those considering a move or seeking education opportunities.
By owning property, you can secure a stable base for accommodation and potentially take advantage of favourable residency or visa options. The Australian government promotes regional areas and offers incentives for those living and working in designated regional areas. For example, individuals residing in regions like Wollongong/Illawarra (NSW) or the Gold Coast (QLD) for a minimum of three years may have better opportunities for migration.
These regional initiatives aim to distribute population growth, boost local economies, and enhance the quality of life in regional areas.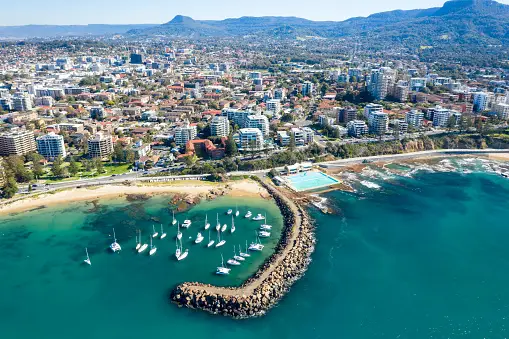 Image: Wollongong, NSW
Bonus Point: NSW Removes Surcharge Purchaser Duty for Certain Countries
Australia is renowned not only for its economic prospects but also for the government incentives that welcome individuals from around the world. Temporary residence visa holders, bridging visa holders, and international students all have the eligibility to purchase property in Australia, presenting exciting opportunities for global investors in the Australian real estate market.
In fact, the New South Wales (NSW) government has recently exempted surcharge purchaser duty for citizens from certain countries. This has opened up exciting prospects for non-resident buyers, making it easier to enter the property market and pursue homeownership.
Conclusion
If you are considering entering the Australian property market, now is the time to explore the opportunities it presents. Conduct thorough research, seek professional advice, and identify investment strategies that align with your goals and financial objectives.
Seize the opportunity and take the necessary steps to start your property journey in Australia. We are here to guide you through the process and help you make the most of what Australia has to offer.
Don't hesitate to contact us at (02) 9099 3412 to explore the exciting possibilities and make your mark in the Australian property market.