Interest Rate Rise – Again!
In a surprise move just one week before the federal budget announcement, the Reserve Bank board has lifted the official cash rate from 3.6% to 3.85%, citing ongoing cost-of-living pressures for households.
Despite a slight slowdown in the inflation rate during the first quarter of 2023, the consumer price index (CPI) still rose by 7%, exceeding the Reserve Bank of Australia's target range of 2% – 3%.
Reserve Bank Governor Philip Lowe expressed concern that this high inflation rate would persist for some time before eventually returning to the bank's target range.
"The board's priority remains to return inflation to target. High inflation makes life difficult for people and damages the functioning of the economy," he said.

"Given the importance of returning inflation to target within a reasonable timeframe, the board judged that a further increase in interest rates was warranted today."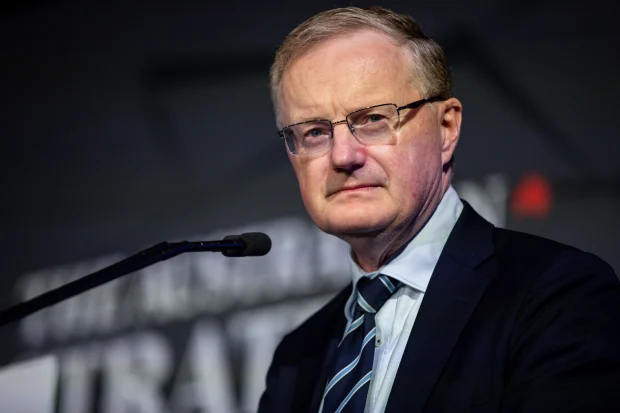 Reserve Bank Governor Philip Lowe. Image Source: APP 
According to Michelle Marquardt from ABS, the cost of goods and services increased at a slower pace in the March quarter compared to recent quarters, although prices continued to rise overall. Energy prices were the most expensive, with the war in Ukraine and power station outages contributing to the increase.
The headline CPI rate for the March quarter was 1.4%, the slowest inflation rate in the last five quarters. However, non-discretionary items still increased by 7.2% compared to a year earlier, and service costs rose to the highest level since 2001 at a rate of 6.1% due to rising rents.
While food prices have decreased since the flood disruptions, they still rose at an annual 8% rate in the March quarter.
Our current property market 
Property prices are now bouncing back
Despite a recent downward trend in inflation since its peak in the final quarter of 2022, the RBA's decision to raise interest rates reflects a sense of uncertainty about how persistent inflation will be, given recent indications that property prices have recovered.
Reports from CoreLogic, Domain, and other data services show that national home values have stopped decreasing and are now starting to rise.
According to CoreLogic's latest Home Value Index, Australian property values increased by 0.6% in March, and the trend continued in April with a 0.5% rise.
Sydney is leading the way with a 1.3% increase in April and a 3% increase in the past three months. The four largest capital cities have all seen a rise in property values over the past quarter, further supporting the positive growth trend.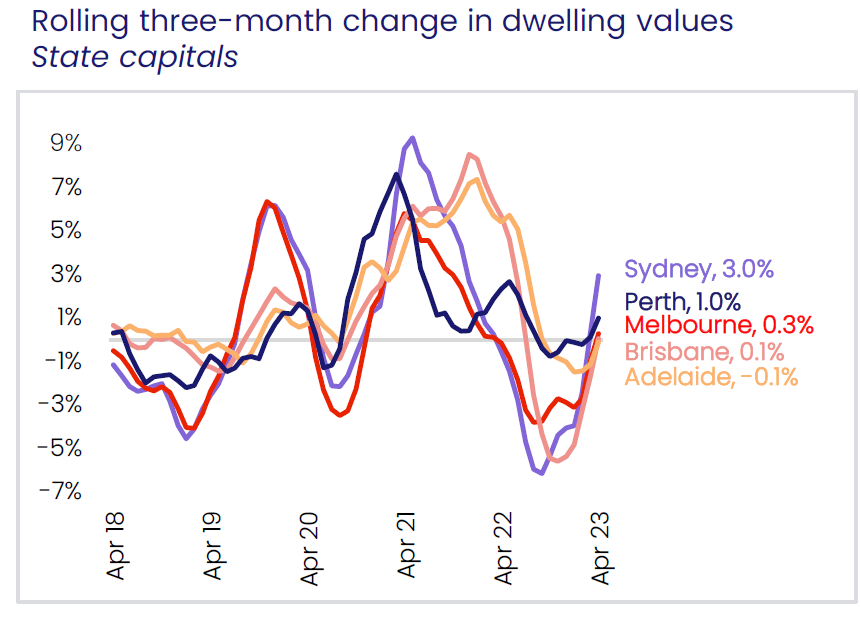 Source: CoreLogic
CoreLogic's Research Director, Tim Lawless, states that it is becoming more evident that the housing market has passed a turning point.
"Not only are we seeing housing values stabilising or rising across most areas of the country, a number of other indicators are confirming the positive shift." he said.

"Auction clearance rates are holding slightly above the long run average, sentiment has lifted and home sales are trending around the previous five year average,"
The most recent House Price Report from Domain also indicates that house prices increased across combined capitals in the last quarter, and Sydney led the way with a 1.3% rise.
"The crucial shift in market conditions is being led by our larger capital cities – particularly Sydney, growing for the first time in a year," said Domain chief of research and economics Dr. Nicola Powell.

"It is also likely that our large capitals will lead the way into recovery as they have historically, given they hit a peak price earlier and fell faster."
Supply, Demand, and the Impacts on property prices
The Australian property market has been able to withstand the impact of previous interest rate hikes due to factors such as solid migration, limited supply, and tight rental markets.
Net overseas migration is expected to exceed 300,000 people this year before stabilising at around 235,000 annually. The impact of migration on the property market is being observed amid rising interest rates.
According to recent research by Domain, population growth may have a greater influence on property prices than interest rates. 
The research found that when Australia's mortgage rate increases by 1%, house prices fall by 1.34% over a quarter. However, when Australia's population increases by 1%, house prices increase by 8.18% over the long term.
This indicates that changes in population over time have a more significant impact on property market movements than changes in mortgage rates.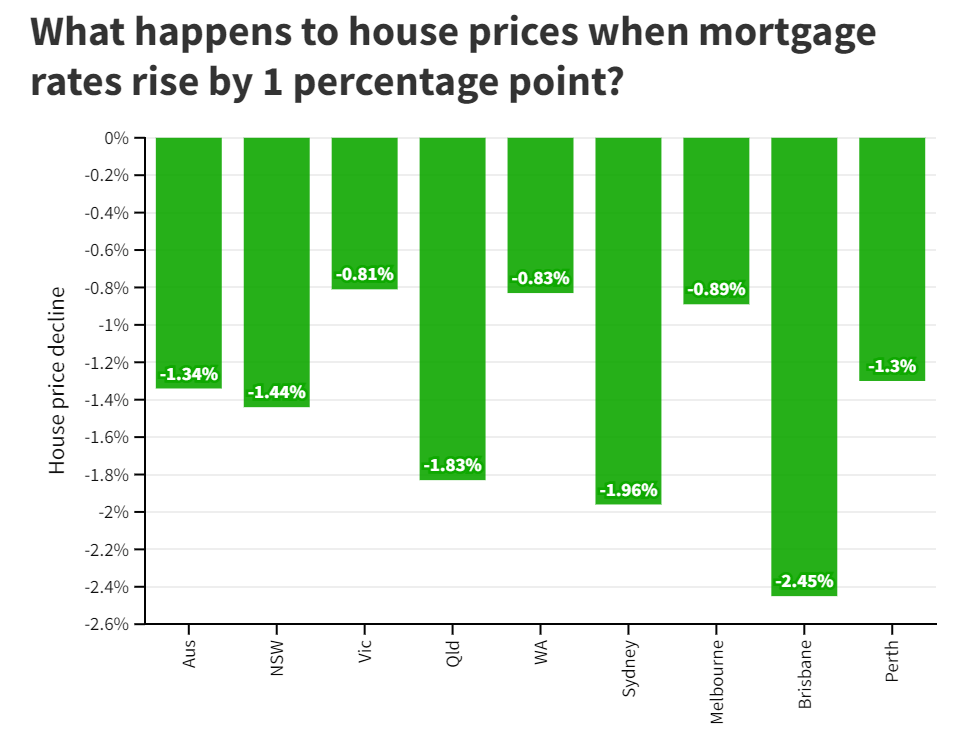 Source: Domain.com.au
According to Mr Lawless (CoreLogic), there has been a substantial increase in net overseas migration, and there is a shortage of available properties to meet this demand.
"While overseas migration would normally have a more direct correlation with rental demand, with vacancy rates holding around 1% in most cities, it's reasonable to assume more people are fast-tracking a purchasing decision simply because they can't find rental accommodation," Mr. Lawless said
Buyer demand for property has rebounded this year after a dip in 2022, as people have regained confidence in the economy. According to data from Domain, the level of demand is now comparable to early 2020.
Meanwhile, there has been a persistent shortage of available properties for sale, which has helped prop up prices. The number of newly listed properties has been below the five-year average since September 2022, and by the end of April 2023, it was around 14% below the average for this time of year.
As a result, the total number of advertised properties for sale was tracking at 21.8% below the previous five-year average for this time of year.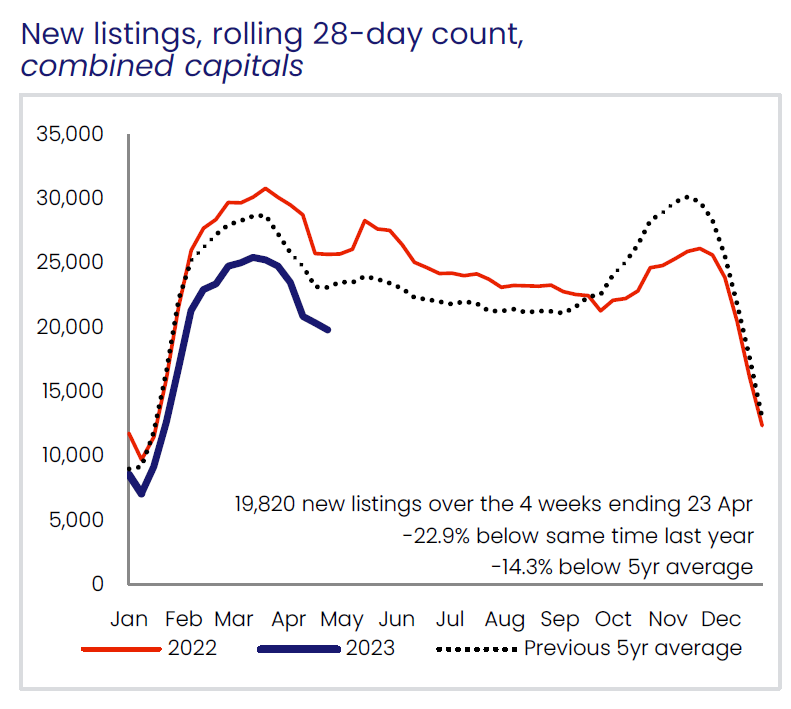 Source: CoreLogic
Rental Market 
CoreLogic's recent report on rental prices showed that rental rates for properties in the combined capital cities increased by 1.1% in April, with regional rents increasing by a smaller 0.5%.
Notably, the growth in unit rents has surpassed that of house rents, with unit rents rising by 1.6% in April compared to a 0.9% increase in house rents.
This trend of stronger growth in unit rents has been observed since early 2022, marking a reversal of the earlier trend during the pandemic, where the unit rental sector experienced weaker growth.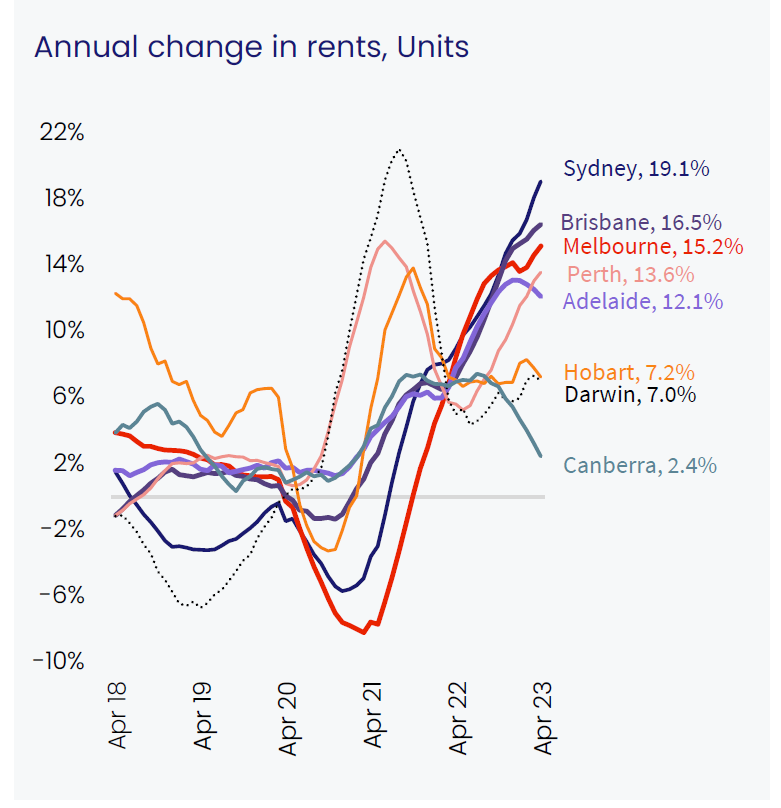 The increase in unit rental prices can be attributed to a surge in demand for rentals from overseas migrants, particularly students, who typically prefer rental accommodation in inner-city areas or locations close to universities and transportation hubs that offer high-density living options.
Next Steps in the Property Market 
There is lot to declutter from the May monthly outlook:
Whilst we question the uncertainty of the RBA's future moves – inflation has been relatively decreasing in recent months, and the Sydney property market has seen moderate growth.
As we transition into the middle of Q2 2023, we have seen the median house price in Sydney increase by 3.7% from this time last year, with apartments also seeing an uptick in their outright value (1.5%) and very high-performing yields right across the board – purely driven by simple supply vs demand economics. And the two main drivers are:
Population increase from migration
Minimal construction and lengthier building approvals – "Red Tape"
Whilst this may be insignificant compared to the growth we saw at the end of 2019 through to the beginning of 2022, we must remind ourselves that any increase is a positive sign to see, especially in one of the most expensive, competitive and desirable markets in the world.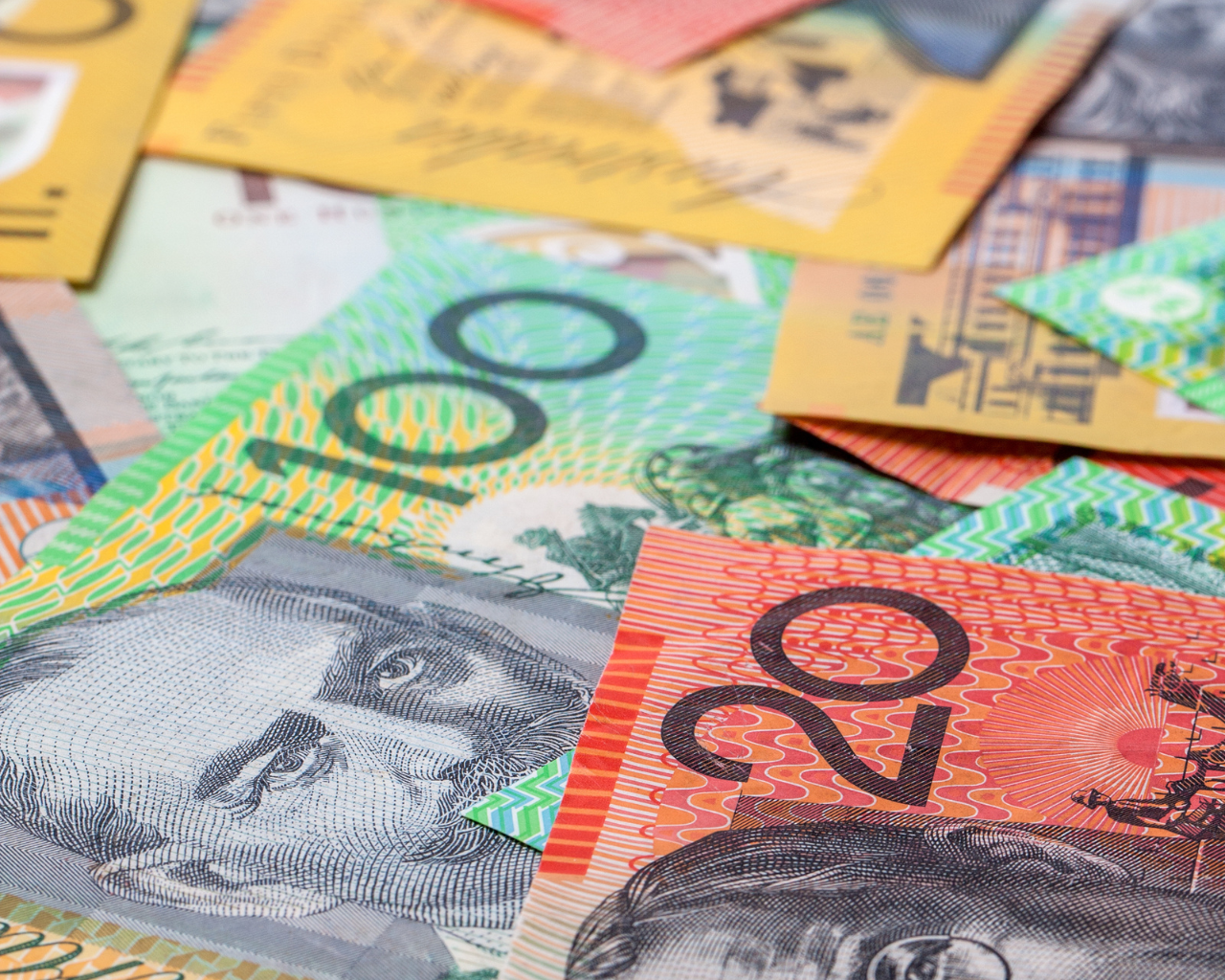 Nevertheless, the biggest economic news to come out of next week will be the federal budget on May 9, which is expected to address the persistently high cost of living.
Among the measures being considered is the removal of tax discounts that favour wealthy Australians with significant assets or high superannuation balances.
The good news is that the federal government plans to expand the Home Guarantee Scheme, which will make homeownership more accessible to millions of Australians struggling with the housing crisis.
One of the changes will broaden the definition of "couple" to include any two eligible individuals, allowing friends and family to team up and buy their first home together from July 1—more information to come.
Interested in getting into the property market? Get in touch with our property consultant experts at (02) 9099 3412 or enquire below.