The rapid rise in interest rates and the current downturn in house prices may have scared many home buyers, but savvy investors are now taking advantage of this period in the market to bulk up their portfolios. An overview of recent trends reveals an attractive market for units and apartments with favourable terms for investors.
If you are looking to invest in units in 2023 to up your personal finance game, here are several insights and trend indicators you should note.
The current situation in the unit market
Investors are looking to return to the property market to recover their financial health post-pandemic, and apartments are highly sought after.
Unit values remained resilient in 2022 thanks to their affordability compared to houses. According to a recent CoreLogic report, the current downturn, May to December 2022, has shaved approximately -$73,000 off the average Australian house value, compared to a decline of only -$32,400 in the average national unit value. But despite declining -6.1% over the past nine months, unit values remain 7.3% above the levels recorded in March 2020.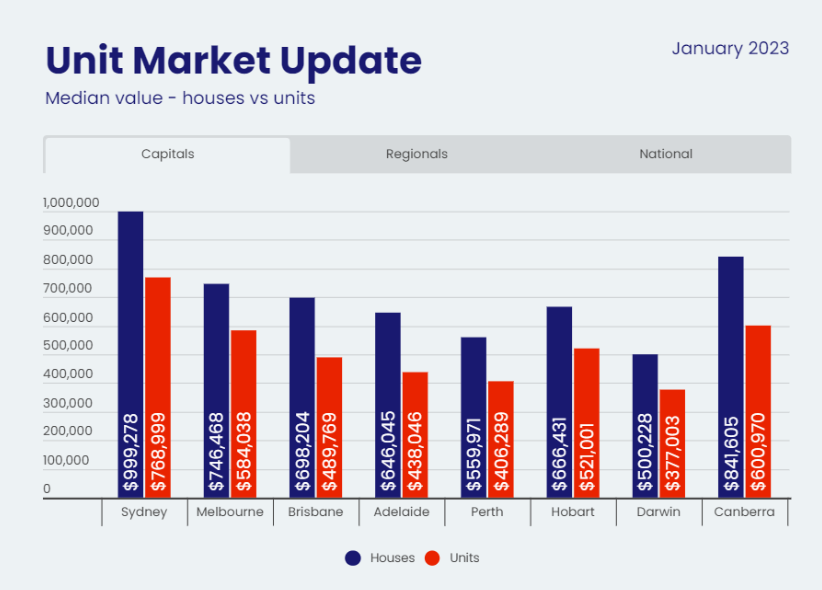 Source: Corelogic
CoreLogic Economist Kaytlin Ezzy explained the cycle of volatility in the housing market in the most recent report.
"Historically, house values have been more volatile than units, recording larger gains through the upswing and larger depreciation during a downswing. The current cycle has been no different."

"As the downturn matures, the resilience of the unit market has now become evident in the annual growth trend, with the annual performance gap between house and unit values inverting for the first time since May 2020 in November (-50 basis points) and widening further in December(-150 basis points)."
At the same time, the rental market has experienced record highs in price growth, with rents rising 14.6% for houses and 17.6% for units. Adding on the expectations that there will be more demand and less supply, this is an enticing point to start investing in units.
Rising trends in the unit market in 2023
More affordable options
Source: Domain House Price Report
With the Reserve Bank of Australia (RBA) announcing an official interest rate rise to 3.35% earlier in February, it is expected that most home buyers and investors will experience a decrease in borrowing capacity that will hinder their ability to purchase expensive properties. Therefore, there will be a diversion towards the unit market, a more affordable alternative.
The relative affordability of units over houses makes them a lucrative investment for investors with a lighter budget. House values are also more sensitive to interest rate increases than unit values.
"As the larger monthly increases in house values recorded over the final quarter of last year fall out of the annual calculation, we'll likely see the annual growth trends intersect before the performance gap between house and unit values inverts in favour of units," commented Kaytlin Ezzy on price falls across the property market.
Landlord market
Source: Corelogic Australian unit market update January 2023
Current market conditions are looking favourable for investors looking to rent their property to generate passive income. Gross rental yields are improving as a result of rising rents and a further decrease in supply.
Weekly rental rates have surged across all states, with the median rate for Sydney being the highest – $630 per week for a house, $530 per week for a unit and $560 for a dwelling, according to a PropTrack report. Despite that, demand is still very high.
Vacancy rates have had the strongest decline in the last few months across the nation, with the latest numbers sitting at 0.8% nationally in early February and the major cities Sydney and Melbourne falling below 1%, according to Domain.
Cameron Kusher, PropTrack Director of Economic Research, explained the situation in his Market Insight Report, "Inquiries are still very strong for rental accommodation, the number of properties available for rent is still very low and the properties are leaving the market very quickly."
Rising demands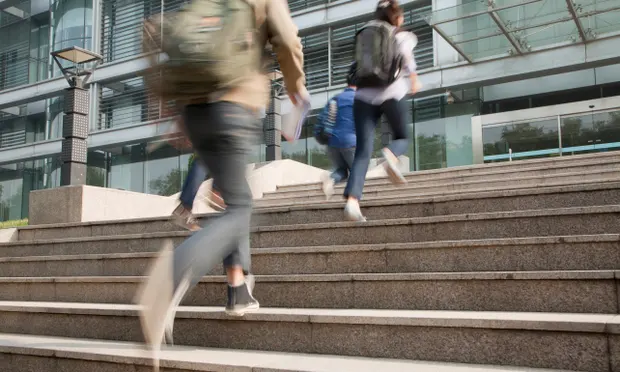 The post-pandemic immigration wave into Australia has generated strong demand for rental properties.
A large part of this wave is temporary visa holders – international students and skilled workers – looking to settle down in capital cities like Sydney, Melbourne and Brisbane, where higher education providers and tertiary services are concentrated.
Since the reopening of international borders, there have been a number of programs and incentives introduced to attract and retain foreign talent. The Australian government has just announced a number of incentives that will attract current students to stay back for longer after their studies and new students to come to our country. These include:
Increasing the permanent migrant intake by 35,000 to 195,000.
Adding a 2-year extension to post-study work visas.
Allowing students to work up to 48 hours per fortnight, an 8-hour increase from previous restrictions.
Allocating $36 million dollars and 500 extra staff to clear visa backlogs and accelerate international arrivals.
On the international end, the Chinese government's announcement earlier this year that it will no longer recognise academic qualifications from foreign institutions undertaken online, meaning between 40,000 – 50,000 Chinese students will be rushing back into Australia in the next few months, creating a sudden and sharp increase in demand.
Supply decrease
Source: Domain
On the other hand, the flow of new listings is weaker than needed to meet the demands of the booming population, keeping the vacancy rate tight.
Domain recorded a record low in rental stock for the month of January, which is tracking 44% lower in Sydney and 61% lower in Melbourne compared to previous years.
What's more, with the continuation of relaxed immigration policies by the Australian Government, this housing shortage – and particularly in rental properties – may continue longer then expected as new buildings struggle to catch up to immigration rates.
As most migrants and immigrants swarm into metropolitan areas, high-density apartment buildings will be in demand to accommodate the increasing number of city dwellers.
Final words
The outlook for the property industry, especially the unit market in the upcoming months, is looking positive for investors.
According to Ms Ezzy (CoreLogic), the return of investors, low supply levels, and relative affordability are some of the positive factors that will help the unit market recover.
"As units approach the floor in values, the prospect of medium to long term capital gains, coupled with strong rental returns, could entice more investors," she said.
Have any questions? Or interested in purchasing property?
Chat with our team at St Trinity today for all your property needs at (02) 9099 3412 or enquire below.