Are you looking to get a foot in the Sydney property market but are having difficulty saving up a large deposit?
Now you can secure property in Western Sydney with a deposit of as little as $10k. Here's how you can do it!
How to secure property in Western Sydney with just $10K 
Many lenders will require a deposit amount of 5 to 20 per cent of the sales price for home purchases.
This might sound like a small amount, but in reality, it can take up to 6 years of saving for a single-income earner to have a 10 per cent deposit for a property in a capital city like Sydney.
We understand that saving for a deposit can be a challenging process, even if you're only setting aside 5 per cent. That's why St Trinity and Coposit are here to make saving for your dream property simple and hassle-free by lending you a helping hand.
What is Coposit, and how can it help you start saving for a deposit 
Coposit allows buyers to save for a deposit after making a $10,000 deposit on a house, and as CEO Chris Ferris explains, it can help young people get ahead of the rising house prices.
"Coposit aims to break the first barrier that first home buyers face when they're trying to enter the property market, which is the deposit," he said. "It's a tool that allows clients to secure a property with a $10,000 deposit and then pay the balance over the life of the construction period."
How it works is simple – speak to St Trinity Property Group who will help you secure property in Western Sydney with $10k!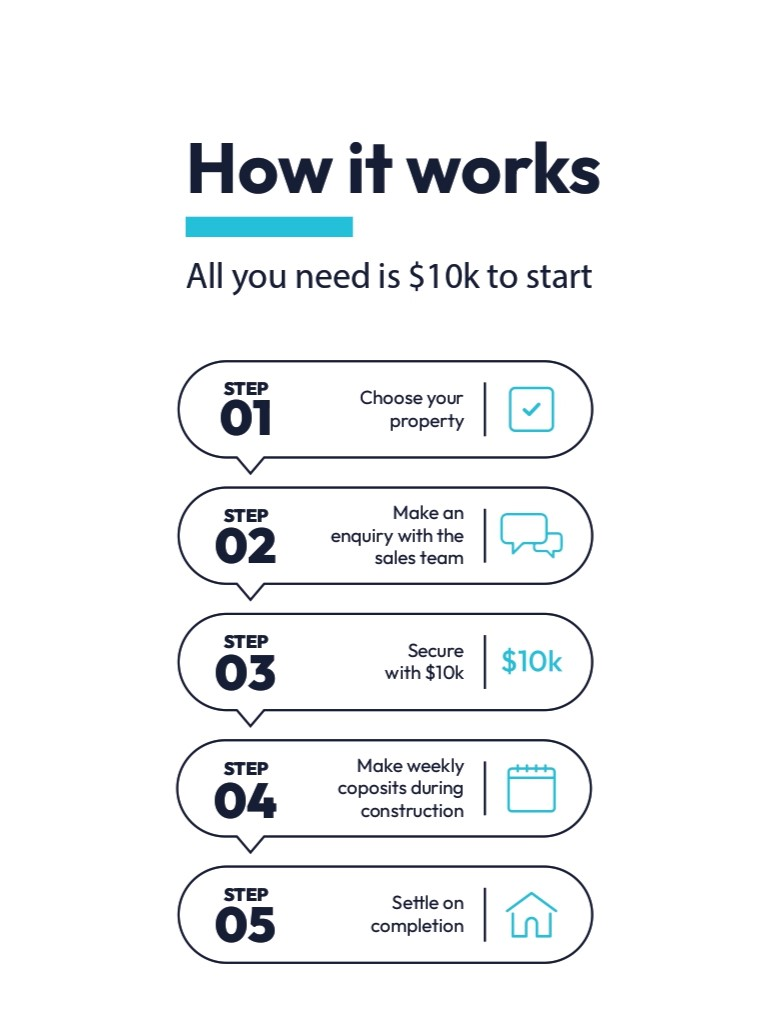 After that, payments can be made in weekly instalments until the construction of your new property is complete.
Even better, you can lock in today's price and save on the difference between now and the price of the property when it enters the market.
"With Coposit, you're on a level playing field with someone who has half a million saved and have the same buying power, because you can enter into the market today and secure a property while executing that normal savings plan." – said Chris Ferris
There has never been a better time to buy property in Western Sydney than now – a region highly connected to central Sydney with a high potential for growth and developments in the near future.
Villawood is the perfect option, sitting at the intersection between two large Western Sydney centres – Parramatta and Bankstown – which are expected to experience enormous economic growth and job generation from mega infrastructural investments like the Western Sydney Airport due in 2026.
Within close proximity to public transportation, local schools, university campuses, and health and retail precincts, it is the perfect family-friendly neighbourhood.
The modern and stylish Parklane Residences lies at the heart of Villawood. It boasts one, two and three-bedroom apartments with sophisticated and highly-functional designs, uniquely enhanced by an emphasis on natural lighting and leafy sceneries of the surrounding parklands.
Key highlights: 
4 minutes walk to Villawood Train Station
8 km from Parramatta CBD & Liverpool CBD
15 minutes drive from Liverpool, Bankstown & Westmead Hospitals
15 minutes drive from the University of Western Sydney (Bankstown)
Quality Fisher & Paykel appliances – electric oven, gas cooktop & rangehood
Sublime communal rooftop & podium garden & community spaces
With the help of Coposit, you can secure property in Western Sydney at Parklane Villawood starting with just a $10k deposit. There is no better time to purchase a property than right now.
Interested in securing this once-in-a-lifetime opportunity or meeting our team of experts? Contact us at (02) 9099 3412 or enquire below.