Choosing the type of property to buy is not an easy decision, especially for first-time home buyers or property investors. This decision is influenced by your financial situation, lifestyle, and sometimes your property goals.
But the decision between these two types of properties is normally about observing the trends in the market and placing your foot in at the right time.
Keep reading ahead to see which type of property you should buy, and the growth predictions for apartments and houses in the upcoming year.
Apartment Vs House: Choosing Based On Price Levels
#1 APARTMENTS ARE OFTEN CHEAPER
Apartments are often smaller than houses. Therefore, they are usually less expensive. According to CoreLogic, at the end of 2021, the average Sydney house was currently selling for $1.36 million, with apartments selling for an average of $837,000. The median house and unit valuation difference is currently close to $500,000.
So, to have a 20% deposit for a house in Sydney, you'd need around $272,000, while for an apartment deposit, you'd need $167,400 – that's more than $100,000 less! This makes apartments a more affordable entry point into the market for homebuyers, especially in a good location.
Over the last two years, the price difference between a house and an apartment has grown tremendously due to the Covid-19 pandemic. Many people were looking for a bigger living space in their homes, due to the extensive lockdowns across the country. However, As lockdowns become a thing of the past, the convenience of apartments brings back their attractiveness to the wider market.
The general price difference between houses and apartments across various Sydney suburbs is shown in the table below.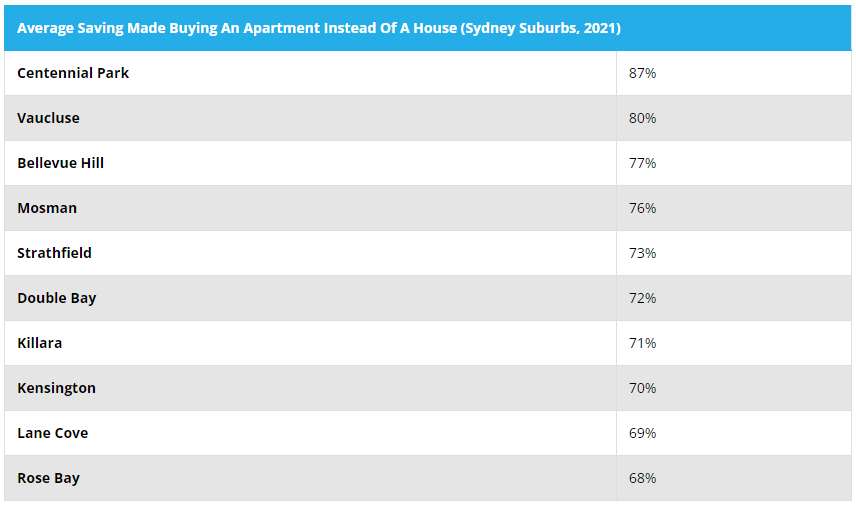 Source: realestate.com.au
#2 APARTMENTS CAN COME WITH CHEAPER UPFRONT COSTS
Other than your deposit, there will be a list of other upfront costs you might need to consider when buying a property. This can include stamp duty, plus legal and conveyancing fees.
Stamp duty is usually the highest upfront cost that you might need to consider outside the deposit. In NSW, the amount of stamp duty is calculated based on the purchase price. The more expensive the property, the higher the stamp duty you will need to pay.
Therefore, if you are looking to purchase a house, then you will be looking at paying more stamp duty. On the other hand, for most apartments, especially off-the-plan purchases, you may pay a lot less in stamp duty than when you buy an established home.
For first home buyers, you may be eligible for stamp duty rebates. Read on to find out more.
Find out more about everything you need to know about stamp duty here.
#3 APARTMENTS ARE MORE LIKELY TO ATTRACT FIRST-HOMEOWNER DISCOUNTS AND BENEFITS
Choosing an apartment over a house will save even more for first-home buyers due to the extensive government stamp duty exemptions and concessions.
As part of the First Home Buyers Assistance Scheme from 1 August 2021, NSW first home buyers purchasing newly built, off-the-plan properties, established properties or vacant land continue to get a complete exemption under the following circumstances:
New homes valued up to $800,000
Established property valued up to $650,000
Vacant land worth up to $400,000
Given apartments are generally cheaper, they're more likely to fall under these thresholds and therefore save buyers anywhere up to nearly $25,000 in stamp duty.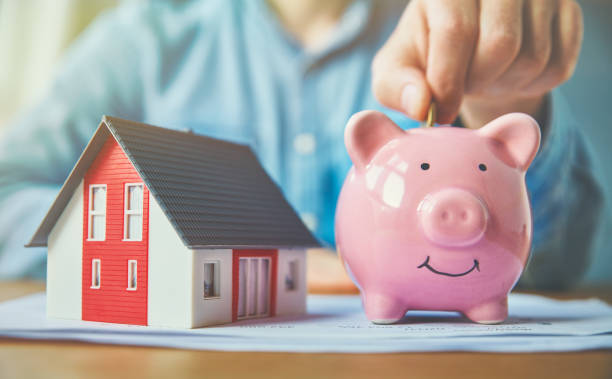 #4 BUYING APARTMENTS OFF THE PLAN
One benefit of purchasing an apartment is that you can always buy off the plan – which means buying in an apartment building that hasn't yet been completed.
Some benefits of buying off the plan might include:
Only pay your deposit upfront, with the balance isn't due until the property has been completed.
Stamp duty discount or exemption.
Secure a property at today's prices.
Make a capital gain before you even move in!
What are the experts saying about Sydney's housing market?
According to CoreLogic, Sydney house prices have risen over 22%, turning it into a red-hot market for all buyers and property investors.
A typical Sydney house is now about $340,000 more expensive than at the beginning of January, while apartments have experienced a gain of $105,000. Looking ahead, Australia's residential property market is now entering a period of slower growth in 2022.
One of the most significant effects of Covid has been the decentralisation of inner-city tenants and apartment owners, which has resulted in high vacancy rates and lower rents in the inner-city apartment market over the last 12 to 18 months.
However, as international borders open up for non-residents, investors will start looking for investment properties again, and units will enjoy more growth potential, according to Westpac.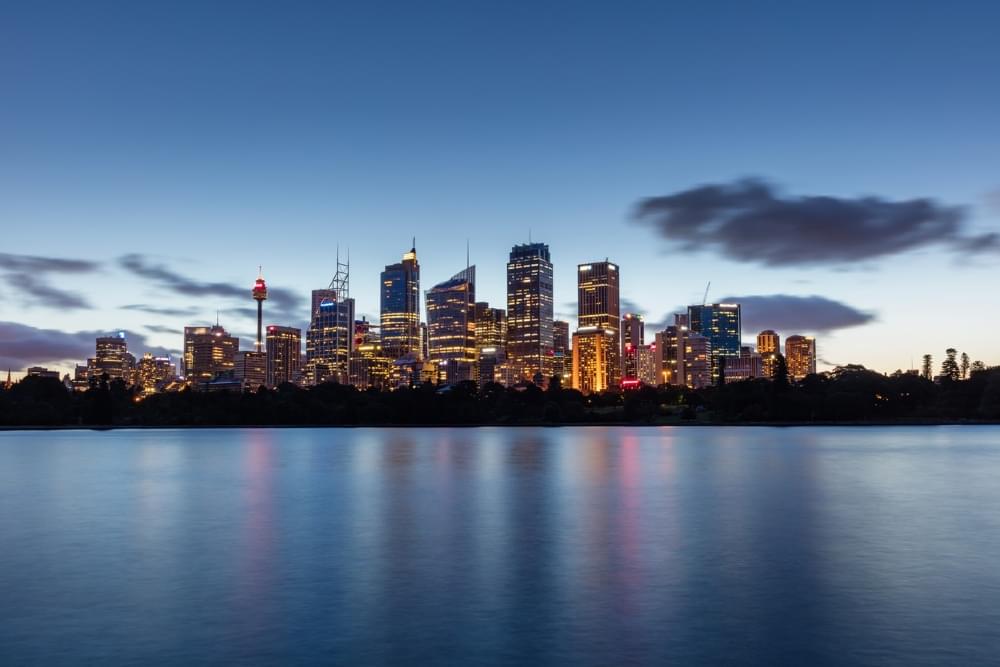 CoreLogic head of research Tim Lawless expresses the same opinion:
"Both the lower entry point and higher rental yield may be an attractive option for investors as they become more active in the housing market," Lawless says.
What does this mean for you as a first-home buyer?
As a first-home buyer, if you are looking for apartment living, now might be the perfect time to secure a home, as the prices for apartments are predicted to rise even more in 2022.
You might be hesitant about securing a place because of the deposit required, but here's also why apartments might be a better choice. Not only are apartments less expensive than most houses by three times, but the deposit payment can also be as low as 5% in many cases!
HOW MUCH DEPOSIT WOULD YOU NEED THEN?
St Trinity has properties on offer for just $301,900, which means that buyers only need a $15,100 deposit.
When buying an apartment, home buyers will enjoy greater capital growth since the prices are forecasted to outgrow the price at which you purchase.
What does this mean for you as a property investor?
As a property investor, the aforementioned forecast for 2022 might have already piqued your interest. According to realestate.com.au, apartments tend to provide a higher rental yield than houses, even though they're less expensive.
Domain's chief of research and economics, Nicola Powell, says that once overseas migration goes back to normal, investing in an apartment with close proximity to the CBD and other amenities would bring a steady source of secondary income for investors.
INVESTMENT PROPERTY RETURN EXAMPLE
Even though houses tend to offer greater capital growth than apartments, they normally come with lower rental yields. So as an investor, a house might not be the best option if you need rental income for cash flow.
CoreLogic Home Value Index released on January 2022 shows the gross national rental yield from apartments is 0.6% more than that from houses.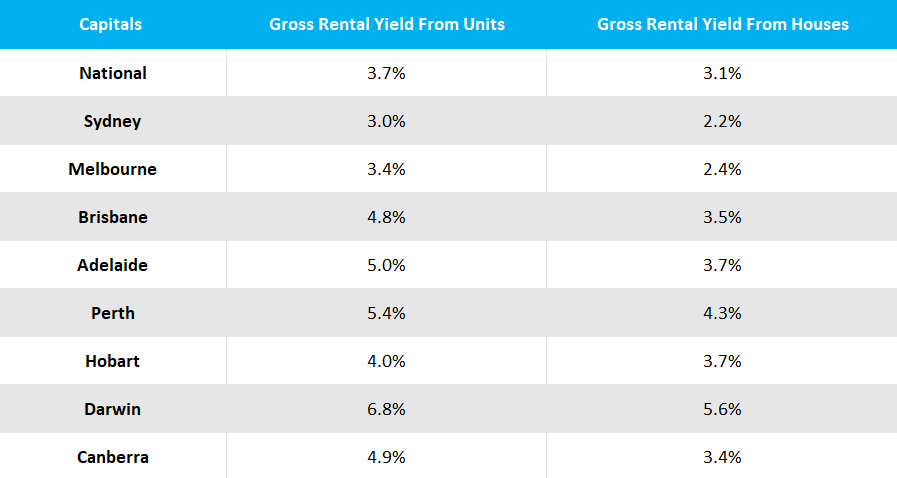 Source: CoreLogic Hedonic Home Value Index, January 2022
Offering an affordable entry point into the market, investing in an apartment means less costly, fewer risks and more investment choices while generating a steadier stream of rental income.
What's the final word on apartments vs houses?
At the end of the day, there's no 'one size fits all' answer to this question. It really depends on your personal investment strategy, the housing demand and supply trends in the market, the location of the property and what you can afford.
However, whether you are a first-home buyer or a property investor, apartments make a very attractive choice when compared with houses. Apartments are cheaper than houses in most areas, with a lot depending on the location and timing.
St Trinity is here to assist with providing you with the information you actually want for a property, as well as supporting you and your needs throughout the purchasing process.
Talk to St Trinity about purchasing an apartment today at (02) 9099 3412 or Enquire below, and let us help you make the best decision possible.