The Gold Coast is a metropolis in Queensland, Australia, located just an hour from Brisbane. The city's population is nearly 650,000 as of 2021 and is experiencing ongoing growth. Over the past decade, the Gold Coast has emerged as one of Australia's most popular tourist destinations, attracting an impressive 3.7 million visitors in 2020, according to Gold Coast Tourism.
With the city set to reach a population of one million by 2041, the Gold Coast has its sights set on a flourishing industrial future. Numerous infrastructure projects are underway to revitalize the city and transform the region into a significant business hub with a wider variety of residential, working, and business spaces.
As the Gold Coast continues to evolve into a thriving metropolis, it has become an enticing place for property investment. With its growing population, booming economy, infrastructure development, and desirable lifestyle offerings, the Gold Coast presents a compelling opportunity suitable for home buyers and those on a mission to build upon their property portfolio.
World Of Opportunities For Economic Growth
The Gold Coast is Australia's fourth-largest business economy, with sights set on substantial industrial development in the future. The Gold Coast Manufacturing Industry is worth a whopping 2.65 billion AUD and currently forms the largest market of exports.
The city's location provides easy access to international connections, particularly to Asia, which makes importing and exporting resources and materials much more accessible.
"Our location means we can build relationships with companies in Asia easily — importing and exporting is easier than if we were in Europe or the US. We have great access to New Zealand and other Australian cities with the expansion of the Gold Coast airport — it's super easy for us to keep growing here," Jack Curtis, VP of sales and strategy at SimTech Visual Displays. QLD said
Curtis enthusiastically shares the immense benefits of being involved in the Gold Coast Manufacturing Hub, a groundbreaking initiative supported by the Queensland Government. The local government actively encourages regional investment and offers various incentives to support property investors. These incentives include cash rebates, reimbursements, employee support, and non-financial assistance packages.
Thanks to the government's unwavering commitment to infrastructure development and the thriving manufacturing sector, the Gold Coast has witnessed a remarkable influx of professionals seeking to live and work in this vibrant city. This growing trend has gradually transformed the Gold Coast into an irresistible destination for both home buyers and property investors alike. The combination of robust infrastructure and a thriving job market has created a magnetic appeal, making the Gold Coast an attractive and lucrative investment opportunity in the property market.
The Gold Coast Manufacturing Hub – An Opportunity for Investors
Gold Coast Manufacturing Hub Director Geoff Adams said the past 10 months since the Hub launched had been busy understanding what each local manufacturer needed and how best to meet those needs.
"These successes so far are just the beginning. Bringing so much manufacturing work to the region and helping the sector thrive is part of building Queensland as the home of manufacturing in Australia."
The Gold Coast Manufacturing Hub has proven to drive hundreds of jobs and significant economic growth. The city's admiration to become a central manufacturing hub has been no secret, with major international companies like Toyota and Microsoft among the manufacturing hub's growing client base.
MP Meaghan Scanlon says the booming industry is going from strength to strength, thanks to the Queensland Government.
"These manufacturing hubs are helping local manufacturers adopt advanced manufacturing technologies and techniques, and it's supporting Queensland as a leader in Australia," Ms Scanlon said.
Currently, over $54 million has been awarded through the Queensland Manufacturing Hub. More than 5,500 jobs have been supported, and with a promising future ahead, investors have countless opportunities to start or continue pursuing their goals in the manufacturing world.
The Gold Coast's ability to cultivate diverse industries, including gaming, highlights the city's potential as a thriving business hub for various sectors.
Coastal Bliss and Beachside Lifestyle
Renowned as "Australia's playground," the Gold Coast offers an enviable lifestyle that attracts domestic and international visitors. With world-class shopping centres and stunning beaches, the City provides an exceptional quality of life. Whether catching a wave at Surfers Paradise, exploring the lush hinterland, or indulging in the thriving dining and nightlife scene, residents and visitors can enjoy plenty of choices.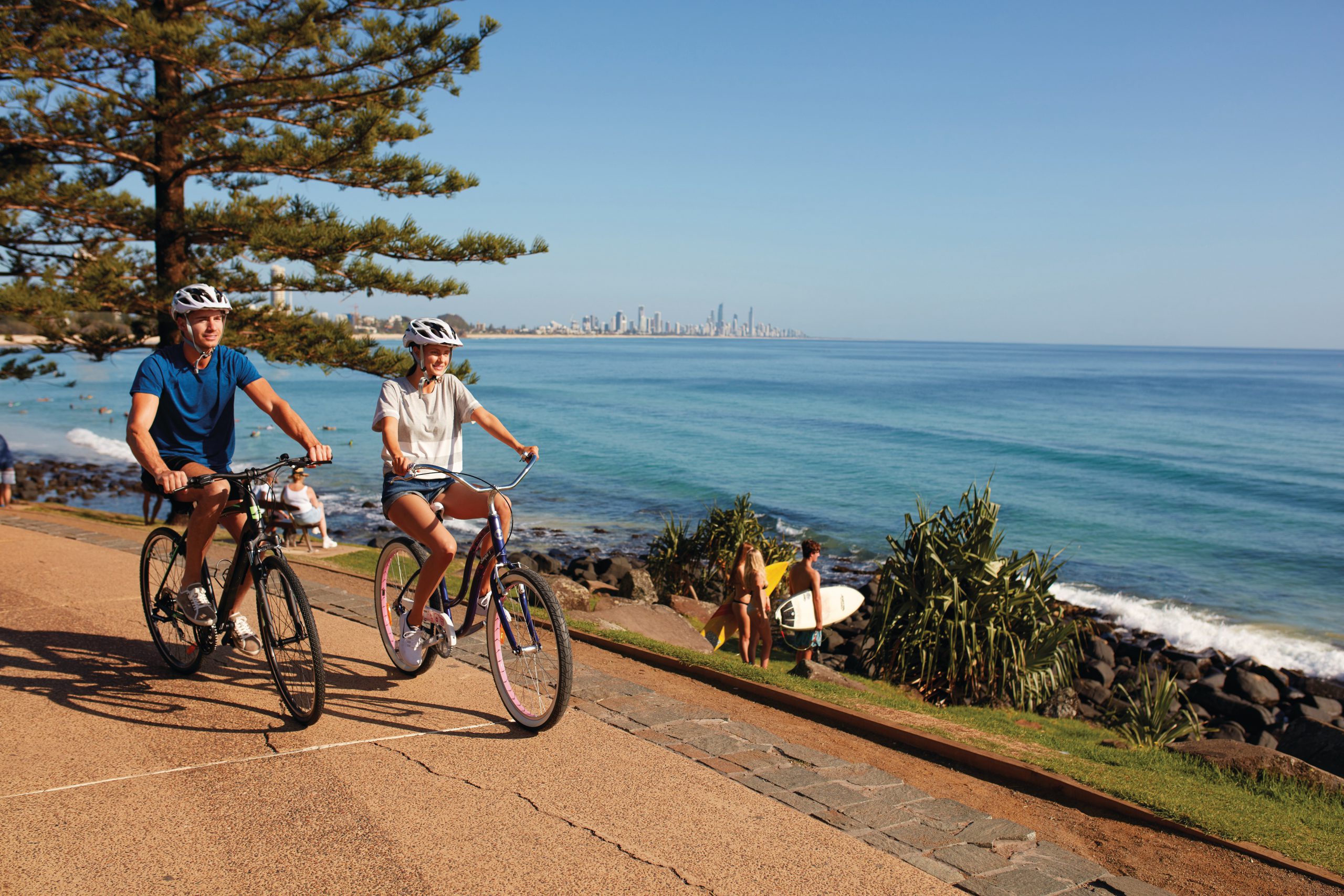 It's also worth noting that the city is a fantastic place for families to settle down. The Gold Coast boasts prestigious educational institutions like Griffith University, making it a sought-after destination for families. These universities offer a wide range of academic programs, adding to the city's reputation as a hub for quality education.
The City of Gold Coast is a magnet for millions of domestic and international visitors each year, thanks to its diverse range of attractions. This desirable lifestyle makes the Gold Coast an appealing choice for families, professionals, and retirees, ensuring a consistent demand for residential properties.
Why this is a good time to invest in property in Gold Coast
The city's robust economic growth and the upcoming major events and investments promise a prosperous future for investors. The region's popularity as a tourist destination ensures a consistent demand for rental properties, providing investors with a reliable and steady stream of rental income.
The thriving tourism industry, with millions of visitors flocking to the Gold Coast each year, creates a substantial market for holiday rentals and short-term accommodation. This demand is further amplified by the City's renowned events, such as the Gold Coast 500 and the Bleach* Festival, attracting even more visitors and increasing the rental potential.
By seizing these opportunities, investors can benefit from the robust rental demand and the potential for substantial property value growth in the years to come.
With the city undergoing significant infrastructure development, including transforming into a residential hub, investing in this area holds immense potential.
Located only 10 minutes from the Gold Coast CBD, Cienna Varsity Lakes offers an ideal opportunity for first-home buyers and investors looking to expand their property portfolio. Nestled perfectly in the vibrant and well-established village of Varsity Lakes, residents will love the convenience of Cienna's location with every right at their doorstep.
The project is located just minutes away from the world-renowned beaches of the Gold Coast, including Surfers Paradise, allowing residents to indulge in sun-soaked days and explore the picturesque hinterland.
With a wide range of exceptional amenities available, including a refreshing swimming pool, inviting cafés, rooftop spaces, and convenient barbecues, every aspect of residents' lifestyle is catered to.
Combining the best of both worlds, Cienna Varsity Lakes offers the perfect blend of convenient and connected urban living with the laid-back coastal lifestyle of the Gold Coast.
Looking Forward – Endless Possibilities Awaits
With its thriving workforce, growing manufacturing and infrastructure sectors, and strong communities, the Gold Coast presents endless possibilities for businesses and projects. Additionally, the city's focus on innovation and technology presents promising prospects for entrepreneurs and businesses in digital technology, creative industries, and sustainable solutions.
The Gold Coast is an excellent opportunity for property investors looking to capitalise on its numerous advantages. One of the key benefits is the thriving workforce, which ensures a steady demand for housing and residential properties. As the manufacturing and infrastructure sectors continue to grow, property investments in these areas can yield significant returns.
Interested in Gold Coast? Chat with us today at (02) 9099 3412 or enquire below.