The place to look, the place to live, the place to thrive. Welcome to Western Sydney, Australia's sunny and vibrant area of opportunities.
Whether you are a young professional out to pursue your passions, a family looking to settle down, or a retiree who wants to enjoy life as it is, Western Sydney has a place for you!
With over 2.6 million people living in Western Sydney as of 2021, it was dubbed as the State's fastest-growing and most dynamic region by the Government of New South Wales.
Where is Western Sydney?
Located within New South Wales, Western Sydney is bordered by remarkable wonders of nature like the Blue Mountains, Hawkesbury River, and the Georges River.  And on top of the lush environment that surrounds Western Sydney, it also houses one of the region's largest metropolitan areas.
Western Sydney's large coverage consists of diverse and multicultural suburban areas — such as Liverpool, Bankstown, Blacktown and Fairfield — where each neighbourhood possesses unique characters that will tick off your checklist of the "perfect hometown."
(Source: Urbis)
What are the top 6 benefits of living in Western Sydney?
1. Close to nature
On top of the majestic natural landscapes that frame Western Sydney, this region also houses the Western Sydney Parklands. This expansive parkland and nature reserve is a 5.2-hectare nature funland, where the community can experience the joys of wildlife with their loved ones.
(Bungarribee Park – Source: Blacktown City Council)
2. 24/7 access to world-class amenities
Gone are the days when you have to scout and hunt for the best places to lounge, eat, and relax. When you move to Western Sydney, you are just a short drive away from some of the region's best spots!
To give you an idea of what delicious surprises the region has in store for you, here is a quick list of the top restaurants in Western Sydney: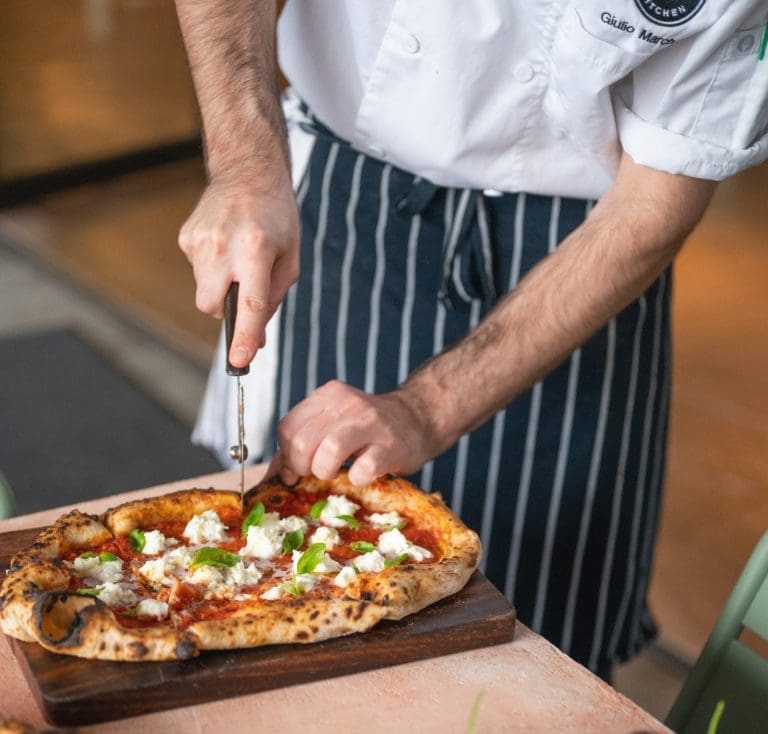 (Source: Italian Street Kitchen)   
3. Top-notch education
If you are a student or a parent looking for top-quality universities for your child, look no further! Western Sydney is home to Western Sydney University, a world-renowned university ranked in the Top 2% of the world.
Furthermore, there are also plenty of excellent primary and secondary schools within the many suburbs across Western Sydney. So if you are looking for a great place to study, Western Sydney has that and more.
4. Countless job opportunities
Western Sydney is teeming with employment opportunities with its hub of economic and industrial areas in the metro. In fact, this report by NAB reveals that Western Sydney is considered the "heavy lifter" of New South Wales' economy with its 30% market share.
Western Sydney offers its residents diverse job opportunities, regardless of their skill level. Here are some of the largest employing industries in the region:
Manufacturing – 11.5% of total employment
Retail trade – 11%
Health care and social assistance – 11%
Construction – 8.2%
Education and training – 7%
(Source: Western Sydney Campus)
5. Diverse and enriching local community
You don't have to fly out of the country to experience different linguistics and culture if you live in Western Sydney. Thanks to Western Sydney University's stellar reputation as a teaching institution, there is an influx of international students now residing in the region.
Additionally, there are cultural events that celebrate Western Sydney's multiculturalism, such as the Harmony Week that happens every March.
6. Housing that is affordable for all
Western Sydney is welcoming to all aspiring residents. With various housing options available, you can find your perfect home that fits your needs and lifestyle. Scroll more to see some of Western Sydney's best properties.
Who lives in Western Sydney?
Western Sydney is not only a home of Australians but also a melting pot of people from diverse cultural backgrounds, which adds to the region's charm. 
According to this latest statistic by .idcommunity, roughly 8.09 million people live in New South Wales, and 32% of the population or 2.6 million people, call Western Sydney their home.
What is there to do in Western Sydney?
Western Sydney is loaded with fun amenities and adventures that you and your loved ones will enjoy! From filling your tummies with the best cuisines to exploring nature at Western Sydney Parklands or even having fun in the sun at Raging Waters Water Park, there is always something to do in this region.
Curious? Check out this guide to learn more!
(Source: Raging Waters, Sydney)
Where to live in Western Sydney?
NSW's super region has tons to offer for people from all walks of life. You can start a new, further your studies, or settle down while admiring Western Sydney's captivating sceneries. 
If you are looking to settle down in this beautifully diverse region, we have gathered some of the best spots to nestle in Western Sydney: 
ADDRESS: 46-54 Court Rd, Fairfield, NSW 2165
BEST AMENITIES: World-class amenities within walking distance, luxurious home spaces
APARTMENTS: Studio, 1, 2 & 3 bedroom apartments
PRICING: Starting from $405,000              
ADDRESS: 47 Villawood Place, Villawood NSW 2163
BEST AMENITIES: Scenic views, abundant natural lighting, close to scrumptious food and dining spots
APARTMENTS: 1, 2 & 3 bedroom apartments
PRICING: Starting from $445,000
ADDRESS: 16 Parkes Street, Parramatta NSW 2150
BEST AMENITIES: Close to famous Parramatta food, entertainment, and tourist destinations, luxurious interior finishes
APARTMENTS: 1, 2 & 3 Bedroom apartments
PRICING: Starting from $655,000
ADDRESS: 224-240 Pitt Street, Merrylands 2160
BEST AMENITIES: Located within the city centre's bustling business districts, close to major food, retail and entertainment hubs, near top-quality public and private schools
APARTMENTS: Studio, 1, 2 & 3 bedroom Apartments.
PRICING: Starting from $482,000
ADDRESS: 12 Carson Lane, St Marys 2760
BEST AMENITIES: Luxurious interior finishes, easy access to Western Sydney's key transportation systems
APARTMENTS: 1, 2 & 3 bedroom residences
PRICING: Starting from $475,000
Need help finding your perfect home in Western Sydney? Give us a call now at 02 9099 3412 or enquire below!