Australia's property market has encountered various ups and downs in the last three years. Notably, there were significant price rises in 2020/21 due to COVID-19, followed by a dip brought about by rate hikes in 2022.
Despite these fluctuations, there's a positive shift happening. The market is finding its balance again, and the regular dynamics of the market are coming back into play.
Encouragingly, the major capital cities are demonstrating robust growth, led by Sydney and Brisbane. Even Perth and Adelaide have seen gains over the past year. Melbourne is steadily recovering from its decline phase.
Among the smaller capitals, Hobart, Darwin, and Canberra are encountering some challenges, but progress is being made.
In regional areas, South Australia and Queensland have notably displayed strong performance recently, and there are promising signs in other regions. Let's explore this further.
Updated in November 2023
RBA Cash Rate Update
The Reserve Bank of Australia (RBA) has raised the cash rate target by 0.25% to 4.35%.
Inflation in Australia, although past its peak, remains high and persistent. The latest CPI reading reveals a decline in goods price inflation but a continued brisk rise in service prices. While CPI inflation is expected to decline, it's now forecasted to be around 3.5% by the end of 2024, reaching the top of the 2-3% target range by the end of 2025. The RBA's decision to increase interest rates aims to ensure a reasonable timeframe for inflation to return to target.
The RBA had kept rates steady since June and assessed the impact of previous rate hikes on the economy. Despite below-trend growth, the economy has been stronger than expected, with higher-than-anticipated underlying inflation and tight labour market conditions.
The outlook remains uncertain, with concerns about the persistence of high inflation and economic dynamics. The RBA remains committed to returning inflation to target in a reasonable timeframe and will closely monitor evolving economic data and risks.
Property Market Predictions for 2024: Sydney, Melbourne, and Brisbane Shine
Property experts from the National Australia Bank (NAB) and KPMG have made bold predictions for Australia's capital cities in 2024, signalling a promising year ahead for property markets.
National Australia Bank (NAB) has adjusted its near-term predictions for capital cities due to stronger-than-expected market conditions over the past three months. NAB now anticipates a price growth of 8% for this year, a significant increase from the previous year of forecast of 4.7%. Moreover, they expect prices to climb an additional 5% in 2024, resulting in a total growth of 13% over the course of two years.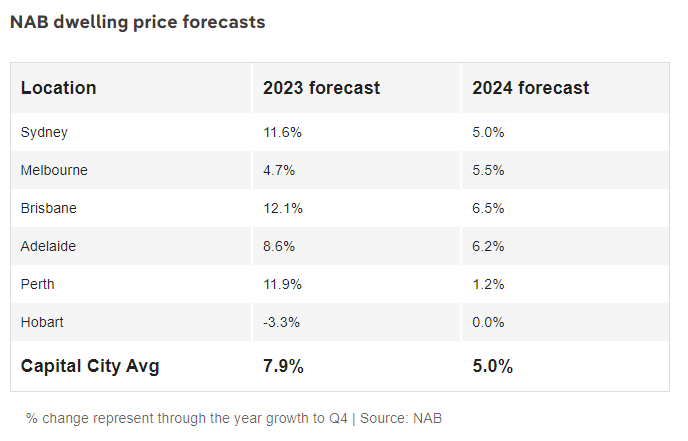 KPMG, on the other hand, predicted the national house- prices will rise to increase by 4.9% over the next 9 months and then experience a substantial surge of 9.4% in the year leading up to June 2025. Similarly, apartment prices across the country are expected to witness an average rise of 3.1% by the following June, followed by a 6% increase in the subsequent 12 months.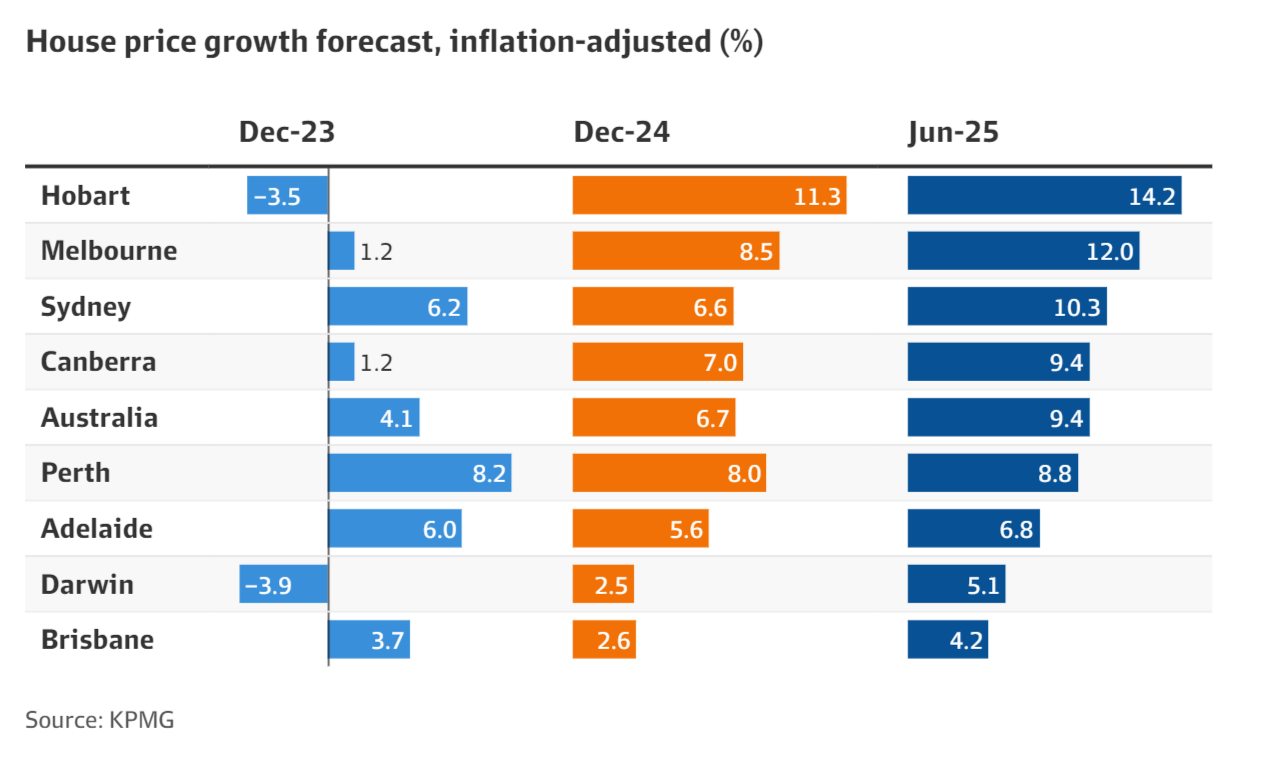 Despite this optimistic outlook for property prices, there will be variations in housing affordability momentum between states. Let's take a closer on how the top 3 capital cities' property market in 2024:
Top 3 Capital Cities: Which markets will hit new record highs in 2024?
Sydney's Continued Growth
Sydney is anticipated to be the front-runner in Australia's property price recovery in 2024. Strong demand and limited supply in the real estate market are the main drivers behind Sydney's growth, pushing property prices higher.
KPMG Forecast anticipates that Sydney house prices will increase by 6.2% this year and jump to 6.6% by the end end of next year, making it an attractive prospect for property investors.
Although NAB's prediction suggests a slight easing of momentum, from a solid 11.6% in 2023 to 5% in 2024, Sydney's property market is projected to maintain its upward trajectory. This is due to sustained high demand and a shortage of available housing, factors that continue to drive prices higher.
Overall, in 2024, Sydney's property market remains robust, thanks to its strong economic fundamentals and appeal to overseas migrants. This continued growth sets the stage for an exciting year in the Sydney property market.
Melbourne's Property Market: 2024 Promises a Thriving Boom
Melbourne's property market is anticipated to boom in 2024, with property prices expected to increase by 1.2 per cent this year and will accelerate to 8.5 per cent growth by the end of December next year, economists say. (KPMG Economics Report).
Melbourne's property boom is forecasted to continue well into 2025, with anticipated increases of up to 12.0% in house prices by December and further growth higher prices is expected as the year progresses.
Notably, Melbourne stands out as the only capital city predicted to experience an acceleration in property prices, with a 5.5% increase, according to NAB's forecasts for next year.
As Melbourne continues to evolve into a thriving metropolis, its property market is becoming increasingly attractive to both local and international investors. With strong economic growth, improved infrastructure, and a growing population, Melbourne is well-positioned to capitalize on its emerging property boom in 2024.
Brisbane's Property Market: The Big Winner in 2024
According to NAB, Brisbane is set to shine in 2024. Brisbane's property prices are expected to surge by nearly 19% over two years, with an impressive 12% increase this year and another 6.5% in 2024.
In fact, "Home prices in Brisbane have already regained 2022's price falls and are rising at a fast pace, jumping 0.39% in September to hit a new price peak." PropTrack senior economist Eleanor Creagh said.
On the flip side, KPMG sees things a bit differently. They predict steady growth for Brisbane's property market in 2024, with prices expected to rise by 3.7% this year and a further 2.6% in the following year. The steady rise is due to high demand and limited housing availability, causing prices to go up.
Demand and restricted supply leading to escalating costs are the economic factors causing Brisbane's forecasted sustained growth in 2024 and 2025. The steady ascension of Brisbane's property market is projected for 2024, as several factors of high demand and limited supply will further escalate unit prices.
Despite some challenges faced by Brisbane's property market in recent years, the city's strong economic foundation, combined with its diverse and growing population, makes it an appealing choice for property investors. As a result, Brisbane's property market is well-positioned for a stable and steady recovery in the upcoming year.
Is This The End Of A Fixed-Rate Cliff?
As we started 2023, people who were negative about the property market were surprised by a sudden price increase that began around March. This positive trend went from Sydney to other cities until the Reserve Bank of Australia raised interest rates.
So, how can we guess what might happen in 2024?
To figure that out, let's look at the important things we know will affect the situation.
The first thing to look at is the "mortgage cliff." This is when home buyers with low fixed interest rates, around 2%, had to pay higher variable rates, between 5.6% and 6.2%.
This is when the decision of the Reserve Bank of Australia to maintain the cash rate at 4.1% comes as good news for many investors and buyers. After this decision, Macquire Bank became the first to cut home loan interest rates, with the new fixed rate will drop as low as 5.29% per annum for owner-occupier principal to 5.49% per annum for investment loans.
The increasing belief that interest rates have reached their highest point or are nearing that point is likely to have a positive effect on consumer confidence.
Investors Are Getting Out Of Their Cocoons
Even though interest rates have increased twelve times since last year, investors are starting to come out of their cautious approach to buying investment properties. Recent signs show that they are becoming less worried about the challenges of getting a mortgage.
In May 2023, there were changes in the lending trends that are worth noting.
According to ABS's newest release, the amount of money given out in new loans for homes increased by 4.8%, reaching a total of $24.9 billion. This is a significant change from a slight decrease of 1% in April. The main reason for this shift is the increase in loans for investor properties, which went up by 6.2%, totalling $8.5 billion.
At the same time, loans for owner-occupiers buying homes to live in also went up by 4.0%, totalling $16.4 billion.
Source: ABS
Prominent Trend: Surge in Cash Purchases in Regional Markets
Nonetheless, the property market isn't always influenced solely by interest rates. An interesting pattern that has emerged this year is a significant rise in the number of individuals buying homes outright with cash, indicating a move away from relying on mortgages.
Reports from the property transaction agency PEXA reveal that a quarter of all property buyers along the country's eastern coast are cash buyers. Although many of these transactions occurred in regional areas, several suburbs in major cities such as Sydney, Melbourne, Brisbane, the Gold Coast, and the Sunshine Coast also showed a similar trend.
Source: Postcodes where cash is king (PEXA)
The report unveiled a noteworthy trend in 2022, indicating that a substantial number of cash purchases occurred in regional postcodes.
In Queensland, 65.2% of cash transactions occurred in regional areas, while New South Wales had a corresponding figure of 56.3%. In Victoria, the proportion of regional cash purchases was the lowest, at 36.8%. This trend aligns with the 2021 Census data, highlighting a higher median age in these regions compared to the broader state population.
When there are more cash property buyers in a region, it suggests that a significant number of people are purchasing homes without relying on mortgage loans from banks or financial institutions. Instead, these buyers are using their own available funds to make the purchases. This trend can indicate several things:
Financial Capability: A higher number of cash buyers implies that individuals in that region have the financial capacity to buy properties outright without needing to borrow money, indicating a financially stable population
Market Confidence: Cash buyers may have confidence in the local real estate market's stability and potential for appreciation.
Economic Strength: The presence of cash buyers might reflect favourable economic conditions in the region, such as strong job markets, high-income levels, or a thriving business environment.
Investment Outlook: Cash buyers could include real estate investors who see the area as a promising investment opportunity. They might believe that property values will rise, generating profitable returns.
What's Ahead in the Property Market for 2024?
NEW RECORD HIGH PREDICTION IN HOUSE AND UNIT PRICE
Because of strong population growth and a lack of homes being built, some capital property markets could fully recover and reach record-high prices by the end of June 2024.
The combined capital cities could see house prices rise 2% to 4% by the end of the 2024 financial year, and units could climb by 1% to 3%, the Domain Forecast Report predicts.
Sydney was predicted to have the strongest growth — up 6% to 9% for houses over the same period and 2% to 5% for units. Melbourne was still suffering a "hangover" from its lockdown periods, Domain head of research and economics Dr Nicola Powell said, and would only have subdued growth between 0% and 2% for houses and a fall of 2% up to 1% growth in units.
"We expect prices to rise, and it will be led by Sydney," she said. "We saw momentum build this year, particularly in Sydney."
Source: Domain
REGIONAL AUSTRALIA IS A FAVOURABLE DESTINATION FOR INTERNATIONAL BUYERS
In the same report, Domain's experts predict the primary driving factors behind the rise in housing demand and property prices over the upcoming year will be population pressures.
Dr Nicola Powell, Chief of Research and Economics at Domain, explained,
"Australia has observed a significant upsurge in temporary and permanent migration since the reopening of international borders in late 2021, aimed at addressing skills shortages. Unlike natural population growth, individuals arriving from overseas do not arrive with housing already arranged."
Historically, migration policy has directed migrants towards regional areas by offering additional points and an enhanced chance of securing a permanent visa for those willing to reside in such areas.
In the coming period, regional house prices are anticipated to outperform units, with expected gains ranging from 1 to 3%, in contrast to the projected growth rate of 0 to 2% for units.
Regional Victoria and Queensland are poised for growth of up to 4%. Furthermore, the Gold Coast and Sunshine Coast are expected to see house price increases of 2 to 4% and 1 to 2%, respectively.
Although regional unit markets are expected to show relatively moderate growth compared to houses during this period, Domain's forecasts highlight a positive trajectory across all regional areas by the end of the upcoming financial year.
Unlocking Sydney's Property Potential: Is Now the Time to Buy?
2024 is looking bright, with various positive news for people looking to buy or invest in houses and apartments. Additionally, there is a high chance that the RBA cash rate will stabilise soon, which is positive for both property investors and people buying their first home.
Even though no one can predict the property market, it's important to remember that it's better to be involved in the market over a long time rather than trying to guess exactly when things will change.
At St Trinity, we're dedicated to helping you navigate the dynamic property market with expertise and tailored solutions. Whether you're an investor capitalising on positive trends or a first-time buyer, our commitment is to empower your decisions and guide you toward success.
Don't hesitate to contact our team at (02) 9099 3412.